Tickets 2017
Category
Advance booking
Tickets bought on the evening
Full price
8,00 €
10,00 €
Reduced price* 
4,00 € 
6,00 €
Entry is free for children up to 16 years!**
* The reduced price applies to students, school children, holders of the Jenapass, severely disabled persons, trainees/apprentices, participants in the German voluntary service, senior citizens. If severely disabled persons are reliant on the help of an accompanying person, entry is also free for the accompanying person.
Entry is free for children up to 16 years!
** Children and students up to 16 years of age receive free admission after acquiring one free ticket (in advance or at the box office). This ticket is also valid as a ticket for public transport.
Advance booking
Advance booking for the Long Night of the Sciences 2017 begins on 29.09.2017. Tickets can be purchased at the usual advance booking offices:
Jena Tourist-Information
Markt 16
07743 Jena
Tel. 03641 49-8060
Fax 03641 49-8055
E-Mail: tourist-info@jena.de 
www.jena.de/tickets

Opening hours: 
Mon - Fri 10:00 - 19:00 
Sat, Sun  10:00 - 16:00 

Special opening on 24 November 2017:
10:00 - 22:00

Unishop der Friedrich-Schiller-Universität
Carl-Zeiß-Straße 3
07743 Jena
www.uni-shop-jena.de

Opening hours:
Mon - Thurs 11:00 - 15:30
Fri                  09:30 - 14:00 

Special opening on 24 November 2017:
17:00 - 22:00
 

 
 
Box offices open on the evening of the event
Tickets can also be purchased on the evening of the event.

Jena Tourist-Information will be open to purchase tickets until 22:00. The tickets will be sold at the price which applies to
tickets purchased on the evening of the event from 16:00. So purchase your tickets in good time!

There will be additional box offices open on the evening of the event (24 November 2017)
from 18:00 to 22:00 at the following locations:
Beutenberg Campus (Abbe-Zentrum)
EAH – University of Applied Sciences Jena (Building 2, main entrance)
University Hospital (Lobeda, main entrance)
FSU-Campus (Ernst-Abbe-Platz)
Please note: The event visitors agree that when attending the Long Night of the Sciences they will not have any right to remuneration if as part of the event images of them are created, reproduced and sent, and they are subsequently used for
the purposes of the event organiser. This means: for PR, editorial and advertising purposes in publications, print media, on posters and advertisements and on the internet and Web 2.0. This provision also applies to under age visitors who attend
the event accompanied by their legal guardians or persons with parental authority. This consent is unlimited with regard to time and place.
Shuttle "Denkbus"
Travelling through the night by tram and "Thinking Bus" (Denkbus).
In order to be able to visit as many of the locations as possible, there will also be additional special buses, known as "Denkbusse" or "Thinking Buses", alongside the normal service. They will run between the individual event sites:
City centre (Stadtzentrum) – University of Applied Sciences Jena (Ernst-Abbe-Hochschule) – Beutenberg Campus – Burgaupark – University Hospital (Uniklinikum) – Lobeda Ost (stopping at all bus stops on the route) Every 30 mins between ca. 17:30 and 00:30
With the "LNdW-Ticket" you can use the services of the Jena regional transport company (including the "Thinking Buses") free of charge on the day of the event from 16:00 until 02:00 on the following day.
Timetable
You can also view all timetables on the MeinJena App.
 
MeinJena App
The MeinJena App offers diverse information about local events in Jena.
Quickly, simply and up-to-date: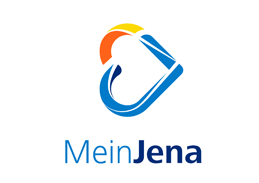 When does the next Thinking Bus or the next tram leave?
Where are the stops near me?
Which events are taking place and where?
What's new?
And much more.
The MeinJena App also offers free wireless internet in the city centre of Jena, for
example at the bus station, Paradies train station, Teichgraben, Holzmarkt, etc.
Student Special
Science Night Jena – Show your parents where you study!
Have your parents always wanted to visit you at university? The Long Night of the Sciences on Friday 24.11.2017 is the perfect opportunity to show your parents the city of Jena. And we have just the right offer for you:
Tickets for the Long Night of the Sciences Jena for your parents
Accommodation for your parents in the Hotel "Zur Noll" including generous breakfast buffet
You can eat breakfast for free with your parents
From 75.00 Euro / night in a single room or 95.00 Euro / night in a double room
The offer only applies when contacting the Hotel "Zur Noll" directly (Tel: 03641 597710) and is subject to availability on Friday 24.11.2017 and on presentation of the Thoska card.
Organisers
Abantu Kulturlabor
Beutenberg-Campus Jena e.V. 
btS - Biotechnologische Studenteninitiative e.V.
Carl Zeiss AG
Deutsches Patent- und Markenamt
Ernst-Abbe-Hochschule Jena
Fraunhofer Institut für Angewandte Optik  und Feinmechanik  IOF
Friedrich-Schiller-Universität Jena
Günter-Köhler-Institutes für Fügetechnik und Werkstoffprüfung GmbH (ifw)
Implantarium - Gemeinschaftliche Zahnarztpraxis
InfectoGnostics Forschungscampus Jena e.V.
JenaKultur
Jenoptik AG
Leibniz Institut für Alternsforschung  - Fritz-Lipmann-Institut
Leibniz Institut für Naturstoff-Forschung und Infektionsbiologie - Hans-Knöll-Institut
Leibniz-Institut für Photonische Technologien e.V.
Max-Planck-Institut für Biogeochemie
Max-Planck-Institut für chemische Ökologie
Max-Planck-Institut für Menschheitsgeschichte
Schott AG
Technologie- und Innovationspark Jena
Universitätsklinikum Jena
witelo e.V. - wissenschaftlich-technische Lernorte in Jena
mobiles Zeiss-Planetarium Jena
Zentrum für Innovationskompetenz SEPTOMICS
Press Release
You can now become accredited for the Long Night of the Sciences 2017 in Jena.
The application period is open until 22 November 2017.
Press accreditation is available to journalists reporting on the Long Night of the Sciences from all areas of the media (print & online media, TV & radio and photography).
As part of accreditation journalists guarantee the provision of specimen copies of their publications.
Accreditation is possible for proven journalists with a valid press card who can demonstrate a professional interest in the event and fulfil our requirements for accreditation.
The event organiser will provide a limited allocation of accreditations without a press card.
Please complete the online accreditation form and send it to lysann.buechner@jena.de
After your application has been processed you will receive a confirmation email and your accreditation pass will be sent by post.
The press kit can be downloaded from: Cloud